At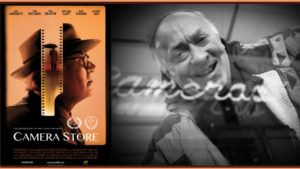 If you don't have a ticket you won't be able to attend. The online box office will close at 4 o'clock on Saturday, August 12th, the day of the event.  The exhibit will open to the public at 8:30pm.  The event ends at 9.
These images are from the Last Days of a camera store.  They depict portraits of the many customers who came in on the last day of formal business, and a few days later when the store got packed up and cleaned out.  This project also depicts community, the community of generations who patronized this local store.
The last day came when this film popped up on my news feed: Camera Store, a movie featuring John Larroquette, John Rhys-Davies, Cheryl Ladd,  David James Elliott and many others.
Here is the synopsis from the website, "It's Christmas Eve morning 1994. Ray LaPine and his loquacious, liquored-up salesman Pinky Steuben are trying to make it through the biggest shopping day of the year, again. Two decades ago, their camera store was a thriving neighborhood business. Today, Bibideaux Photographic has withered into a sad relic of a bygone era. The two men now find themselves trapped while merely keeping the store alive for their wealthy, amoral, and absent boss, Mr. Bibideaux. But there is something different about today. With the arrival of an old friend, Ray gets word of a big change coming to the business he thought he knew so well. Ray must act immediately to save himself from the sinking ship before he loses the little chance he has for a better life. " – Camera Store film
August 12th,  5PM
Doors open at 4:30
Movie:  Camera Store
Location 1, Movie:  Hallmark Visitors Center, 2500 Grand, Kansas City, MO 64108
Here is a map from their website:  HVC
See below for parking instructions.
Location 2, Exhibit/Reception:   Last Days, Crick Camera's last location, 7715 State Line Rd.,  Kansas City, MO 64114
Food:  Provided by Papu's Mediterranean , 604 W 75th St., Kansas City, MO 64114
Event Package:  $25 per person, if there is a print of you in the exhibit you get to take that print home.
Event Tickets Click Here:  Last Days of a Camera Store
Parking Instructions:
Hallmark Visitor's Center
For your GPS or Google Maps—2450 Grand, Kansas City, MO 64108
This will take you to the Crown Center Parking Garages.
1.  Park on the East side of Grand look for the signs marked Sea Life, Lego
Land, American Restaurant and Halls on Grand.
2. You will enter the parking garage on the blue level. Park on the blue
level, near security office. The security office will be on your left.
3.  Bring your parking ticket with you. Hallmark Visitors Center will validate
parking ticket for 3 hours of free parking.
4.   Walk towards the security office and enter to the right of the security
office—blue double doors.
5.  Turn left and take elevator to 3rd floor.
6.  As you exit the elevator, go left, down the carpeted hallway—outside.
7.   Follow sidewalk past Kaleidoscope, down past airplane coming out of the
window.
8.  Hallmark Visitors Center is immediately past the airplane to your right.
7715 State Line, old Crick's
We prefer you park in the old Sweet Tomatoes lot located behind the store off of Meadowlake PKWY.
We want to keep the front lot open for customers of the businesses.